CAPPA is part of the Technology Gateway Network funded by Enterprise Ireland. The CAPPA Technology Gateway is one of a nationwide network of 16 gateways, whose objective is to deliver technology expertise and solutions for industry partners in a time scale that industry expects. The CAPPA Gateway is successfully delivering photonic solutions for industries in the General Photonics, Pharmaceutical, Food & Beverage and Medical Device sectors. CAPPA is the only Gateway within the network, which focuses on photonics.
The Enterprise Ireland Technology Gateway Programme is co-financed by the Government of Ireland and the European Union through the ERDF Southern, Eastern & Midland Regional Programme 2021-27 and the Northern & Western Regional Programme 2021-27.
Technology Gateway programme
The Technology Gateway programme represents a €49.75M investment by Enterprise Ireland over the 10 years from January 2013 to December 2022. Each Gateway delivers technology solutions for industry through innovative collaborative projects and provides:
An open access point for industry providing technology expertise which is industry relevant
Technology solutions for the close-to-market needs of Irish industry
Regionally-based Gateways acting as a portal to the nationwide expertise in the Technology Gateway Network and the wider Irish Research infrastructure
On-going development of the Gateway's technology offers to industry with the assistance of an industry-led steering committee
You can learn more about the Technology Gateways through their publications.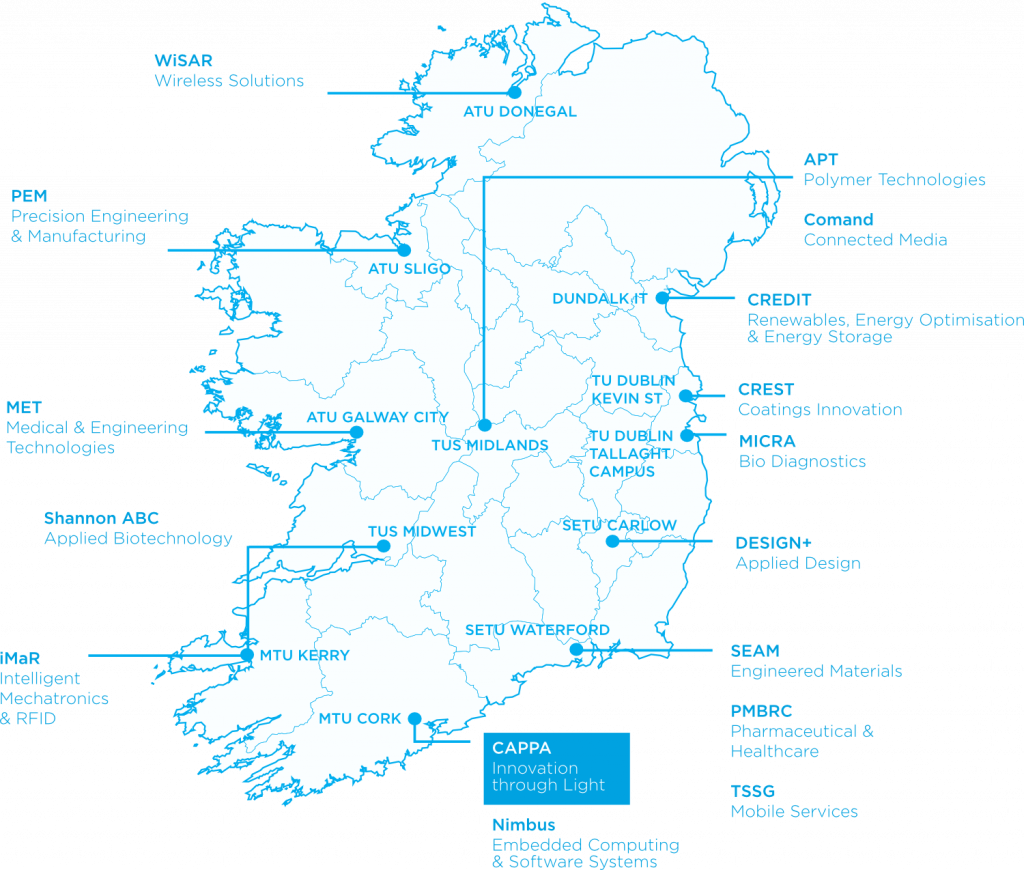 Irish Food Tech
In 2018 CAPPA became part of the new Irish Food Tech cluster established under the Technology Gateways. The Irish Food Tech Cluster is a consortium of seven of Enterprise Ireland's Technology Gateways operating within the food and beverage technology sector. The cluster provides a range of expertise for companies who are looking to access research and development within these areas. The cluster can connect industry with researchers in a wide selection of areas that include bioprocessing, food for health, process control and packaging amongst many others.
Collaborations with Technology Gateway
CAPPA has collaborated with companies through the Technology Gateway programme since 2008 on a variety of projects in the medical, pharmaceutical, consumer electronics, photonics and food and beverage sectors to help companies engage in research, development and innovation for their business. Collaborative projects CAPPA have worked on through the Technology Gateway programme include:
Development of a gastrointestinal bleeding sensor

Assessing and benchmarking of new products and systems

Analysis of food and beverage products

Development of new products and services

Stability testing and development of LED based light engine for air quality sensors
CAPPA has collaborated on over 200 projects through the Technology Gateway programme. As a result, CAPPA is able to assist you in navigating the funding process and finding the best solution for your business query.