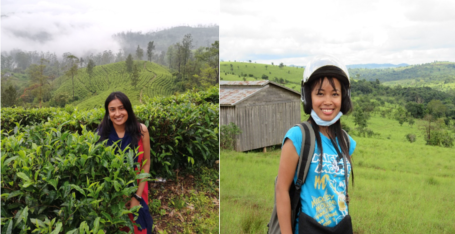 The Centre for Advanced Photonics and Process Analysis (CAPPA) are committed to helping the people of India and Cambodia during the current COVID-19 pandemic. CAPPA has a large number of international staff and students. CAPPA members have highlighted the difficulties their local communities are currently facing as a direct result of the COVID-19 pandemic and the hardship they now face, with many people out of a job and unable to support their families. Some of these areas must choose between food products and hygiene products on a daily basis. As a result, CAPPA wants to help fundraise for some of the worst effected regions. In an effort to help the regions CAPPA will be fundraising for the month of June. CAPPA's chosen charities are "CARE T" in India and "We Share" in Cambodia. CAPPA are offering a free one-hour consultation or free analysis worth €400 for the month of June to anyone who donates to the fundraising. Simply contact CAPPA directly to find out more information on how to avail of this offer.
CARE T – India
The COVID-19 pandemic has fractured global apparel supply chains and inflicted a devastating blow to millions of factory workers. Textile and Garment workers in India's largest production hub in the southern state of Tamil Nadu are experiencing severe hardships during this crisis. The daily wageworkers of textile, garment workers of the informal sector are facing extreme hunger and poverty due to temporary unemployment and lack of wages. Families of the textile and garment workers are mostly belonging to marginalized communities living in rented small houses. Older people, children and other dependents of the workers are facing hunger. CARE T has been engaged in distribution of Covid 19 relief materials in Coimbatore district and neighbouring districts. To date 26,663 marginalized families of women textile workers have received care packages and COVID-19 prevention kits from Care T. The distribution of dry food materials has helped families to get three meals a day and survive for one month. It has prevented hunger and starvation related problems of the vulnerable families. CARE T has also produced more than 100, 000 masks by volunteers and distributed these to frontline workers. A €12 donation to the Care T organisation will provide one-month worth of food for one family. This package includes 10kg of rice, 1kg of wheat, 1kg of rava, 1kg of dhal, 1kg of sugar, 1kg of salt, ½ litre of cooking oil, 200g of tea and a variety of spices and hygiene products including masks.
We Share – Cambodia
COVID-19 has hit Cambodia and has affected all the major industries but particularly the garment, footwear and clothing industry production has fallen due to declining demand in the exporting markets in EU and China. The current COVID – 19 pandemic has hit the more vulnerable people including women, children, indigenous people and migrant workers the hardest. It is estimated that each garment sector worker in Cambodia supports five to six people. To cope with the income losses, household have reduced food and non-food consumption such as rent education and medicines, which have worsened their living conditions. A €50 donation to the We Share organisation will provide an emergency package that would feed one household per month. The package includes a mix of basic foods (rice, noodles, and canned food) and a variety of hygiene products. The money raised will go to households in Battambang and Phnom Penh regions.
CAPPA students Madhumidha Murugan, from Tamil Nadu in India and Savda Sam Battambang in Cambodia work directly with these chosen charities and will provide updates after the fundraiser of how the donations were distributed within the local communities and the direct impact they made. All money raised throughout this fundraiser will be split between these two charities.
Please see the GoFundMe link with the full details of both charities and how you can donate.