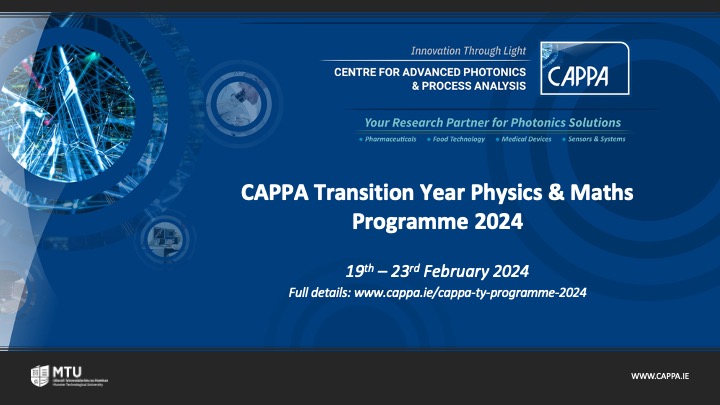 *Deadline for receipt of applications is  Thursday 30th November 2023* 
The Centre for Advanced Photonics & Process Analysis (CAPPA) are delighted to announce they will be hosting their annual physics and maths transition year programme for 2024. The Transition Year week will take place from the 19th to the 23rd of February 2024. This event will take place primarily in MTU Bishopstown campus.
The programme will include:
Lab tours
Attending lectures
Interactive seminars
Talks from technical staff in the workshops
Talks from research staff
Engagement with industry professionals
Focus on women in physics
Photonics in industry
Physics in everyday life
Photonics COVID-19 research
Careers in physics
Completion of an assigned project during the week
Registration for the programme is now open and the application form can be downloaded below. The consent form must also be filled in by the students parent/guardian in order to register interest for the programme.
Applications for the programme will be open until 30th November 2023, however this programme is in high demand and should the programme fill before that date, it will close earlier.
If you have further questions about the programme, you can contact the CAPPA team via [email protected].
Application and Consent Form
CAPPA TY Application Form – Word Document