CAPPA was delighted to have their own Dr Michael McAuliffe speaking at the Photonex Enlighten Conference on "Extracting physical attributes from hyperspectral images." The Photonex conference Europe took place on the 9th and 10th of October in Coventry, United Kingdom. It was co – located with the Enlighten Conference, Vacuum Expo, IEEE High Power Diode Lasers and Quantum Technologies. The Enlighten Conference featured application and technology advances, innovations and emerging technologies in photonics and optical technologies. This meeting introduced a variety of applications for hyperspectral imaging, explaining the camera technology and software options available. It also included a review of items of consideration when using this technology for typical applications.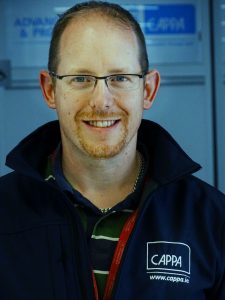 Dr McAuliffe was speaking on the Hyperspectral Imaging stage on Thursday October 10 on "Extracting physical attributes from hyperspectral images." Chemical information is readily available from hyperspectral data cubes; however, there is a possibility to extract physical characteristics from certain samples. Density, hardness, thickness and staining patterns are physical parameters that can be measured with IR and NIR light. With the use of short wave infrared hyperspectral imaging, it is possible to measure objects in real – time and determine these physical parameters are presented.
CAPPA recently added a new hyperspectral imaging system, the Hyspex SWIR – 384, to their service offering. With the addition of this new system, CAPPA is now able to offer an extensive range of services to help with their customers growing needs. With this new system, CAPPA can now carry out more detailed research across a variety of different sectors such as medical device, food, beverage and pharmaceutical. The system incorporates a spectral camera with several lenses on a translation stage, combined with a focused broadband illumination source.
You can learn more about the services available at CAPPA here and about CAPPA's new Hyperspectral Imaging system here.