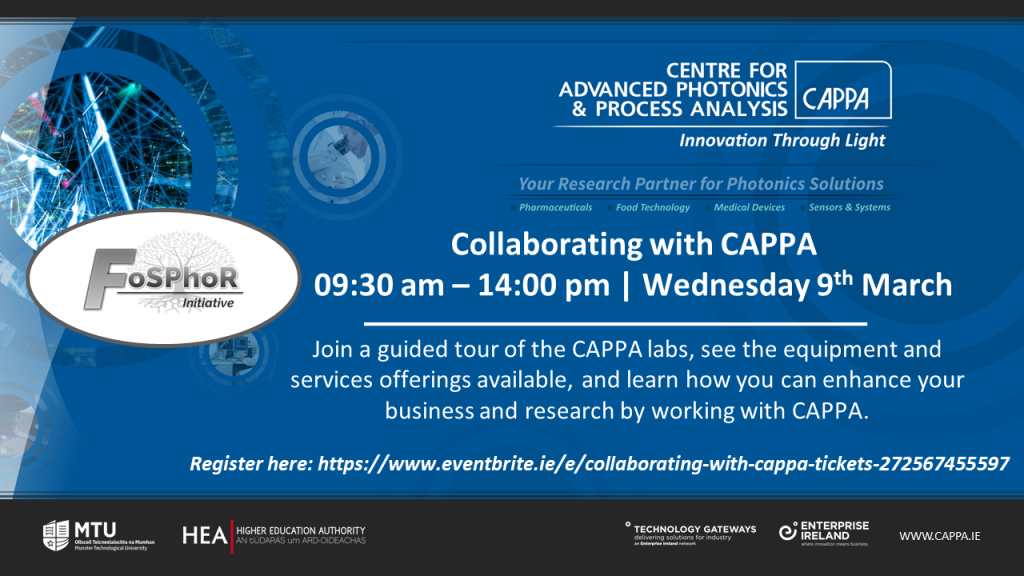 The Centre for Advanced Photonics and Process Analysis (CAPPA) would like to invite you to the Collaborating with CAPPA Open Day, on Wednesday, 9th March.  The event will focus on how CAPPA can enhance your own research or business R&D, and showcase the equipment, expertise and service offerings available at CAPPA. The event will run from 09.30 – 14.00, and will include a series of lab tours running from 09.30 – 12.30. A lunchtime talk at 13.00 – 14.00 in the Council Room in the Administration Building, will then present the capabilities of CAPPA, discuss the FosPhoR Initiative and the benefits of collaboration with us, and provide an opportunity for Q&A with CAPPA researchers. A light lunch will be provided.
Here you will learn about
Services and equipment available
Navigating the research and innovation process
How to begin collaboration with a research centre
Access funding for business and research
Examples of collaborative research
CAPPA is at the forefront of photonics research in Ireland, conducting both applied and fundamental research on photonics for applications in areas as diverse as telecommunications, medical devices, food and pharmaceutical manufacturing. CAPPA has provided photonics solutions to companies in all these sectors and collaborated with academic partners both nationally and internationally, on scales from short-term consultancy to multi-year collaborative projects. CAPPA is actively seeking to forge new collaborations, in these areas as well as extending links to new cross-disciplinary areas.
A follow-on event is also planned for a showcase day in MTU South Kerry Campus on Wednesday 30 March. This day will focus on engaging with our colleagues, customers and potential collaborators in the Kerry area.
The  Collaborating with CAPPA Open Day is a free event, however registration is essential; in particular, numbers on the lab tours are limited, so you are encouraged to book your slot early. There will be three tours and after registration, you will be asked to indicate your preferred time slot.
The lab tours for this event will run during three time slots in the CREATE Building in MTU:
Lab Tour 1 – 09:30 – 10:30
Lab Tour 2 – 10:30 – 11:30
Lab Tour 3 – 11:30 – 12:30
You can register for this free event here: https://www.eventbrite.ie/e/collaborating-with-cappa-tickets-272567455597