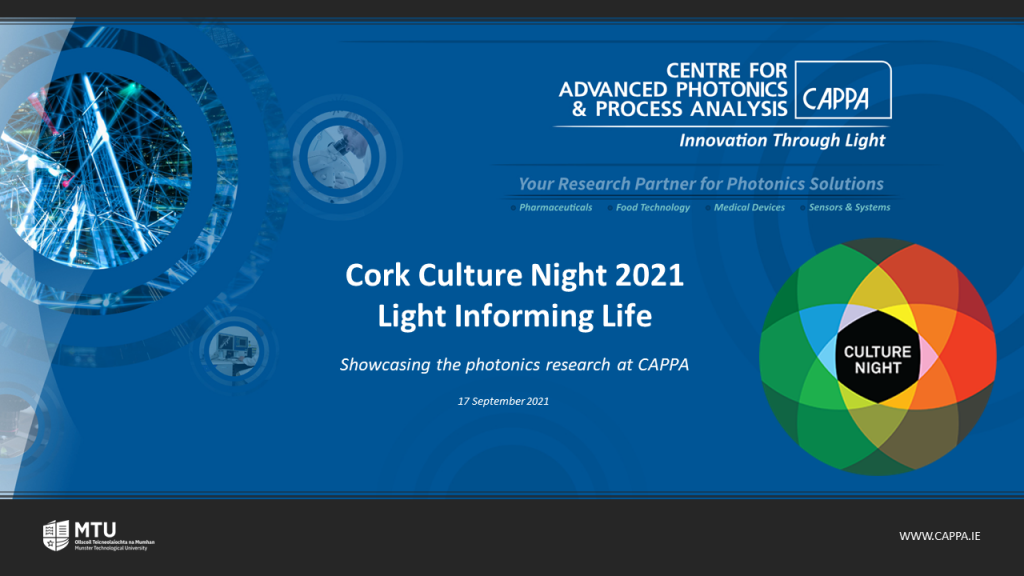 The Centre for Advanced Photonics and Process Analysis (CAPPA) is delighted to be taking part again this year in the annual Cork Culture Night, which is taking place on Friday September 17, 2021. Culture Night is an annual all-island public event that celebrates culture. On Culture Night, venues of all shapes and sizes extend their opening hours to allow for increased access to the public. Special and unique events and workshops are specifically programmed at participating locations and everything is available free of charge.
Light provides an enormous amount of information about the world around us. It allows us to examine processes on scales from the very small (cells) to the very large (galaxies). By using the different properties and types of light, we can gather information on the chemical and physical makeup of materials, compounds and biological samples. This is invaluable for applications as diverse as pharmaceuticals, agriculture and medical imaging. Moreover, light can be used to transmit information; it forms the backbone of the fast fibre-optic networks that make up today's internet, relying on ultra-compact semiconductor lasers and ingenious nanoscale structures. The general area of generating and manipulating light is known as photonics.
In a series of online videos Centre for Advanced Photonics and Process Analysis (CAPPA) will showcase:
An overview of the activities at the CAPPA research centre
A series of experiments aimed at children which can be done using everyday household items;
Showcasing a tour of the state-of-the-art CAPPA labs in the CREATE building on MTU's Bishopstown campus, showing the advanced spectroscopy and imaging systems and nanophotonic devices used to assist local and multinational companies with their analysis, process control and R&D programmes;
Showcasing the CAPPA labs in the Tyndall National Institute and showcase how researchers are developing novel laser devices to enable advanced OCT medical imaging techniques which can look beneath the surface of the skin.
The full videos on the night will be available below.