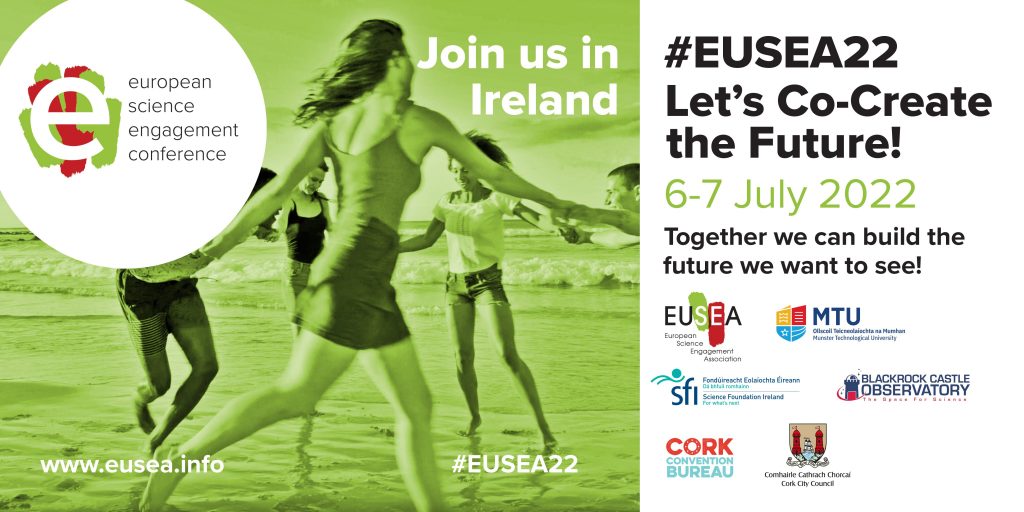 The Centre for Advanced Photonics and Process Analysis (CAPPA) was delighted to recently attend the European Science Engagement Association (EUSEA) 2022 Conference. The conference took place from the 6th to the 7th of July in Munster Technological University Bishopstown Campus. There was over 100 people in attendance at the conference over the two day period. There was a wide variety of talks, workshops and networking which took place over the conference with a wide range of speakers from all over Europe.
EUSEA is an international knowledge-sharing platform and accelerator of innovation in the fields of public engagement. The association addresses experts involved in the design, organisation and implementation of public engagement activities across Europe. EUSEA is an active consortium member in projects funded by the European Commission and supports partners in European funding policies.
In times of rapid changes in scientific institutions and society at large, science festivals and public engagement activities offer much more than "edutainment". Collaboratively designed engagement activities can build bridges – between science and society, researchers and citizens, policy makers and innovators. EUSEA initiates and supports many of these activities as a strong partner, striving to foster public engagement that make an impact across Europe.
The conference ended with the EUSEA general assembly, which took place as a hybrid event both in person in Munster Technological University and online. The general assembly was free for all to attend and watch. The assembly discussed findings from the EUSEA activity report and trends for the future.
You can learn more about EUSEA here and more about CAPPA's scientific engagement here.